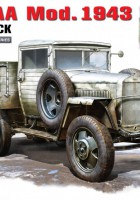 Ref
Trideset pet tisoč sto trideset in tri
Vrsta
Model
Lestvica
1/35
Temo

GAZ-AAA Mod. 1943. Tovor Tovornjak
Nov model znamke MiniArt komplet: "GAZ-AAA Mod. 1943. Tovor Tovornjak – MiniArt 35133".
Up-to-datum tehnologije z drsnimi kalupi
Zelo podroben model
V celoti-podrobnejši prostor za motor in podvozje
Pristne lesene teksturo
469 deli
43 PE deli
Nalepke so vključeni
5 veren Številke
Barvno navodila
GAZ-AAA truck is the triaxial modification of GAZ-AA. American truck Ford-Timken was a prototype for GAZ-AA. During it serial production (1934-1943) were produced 37 373 trucks, during WWII – 9 724 trucks, nonmetering chassis for busses and armoured vehicles. GAZ-AAA trucks were used for transportation of goods, staff and for towage of artillery systems. During pre-war period on the base of GAZ-AAA trucks were produced self-powered machine gun Maxim (4M); during WWII – antiaircraft emplacement with heavy machine gun DShK and with 25mm and 37mm automatic air defense guns.Different special trucks were produced on base of GAZ-AAA chassis such as radio station RSB-F, movable repair shops PARM and PM type A, fuel tanks BZ-38 and BZ-38U, water-oil bowsers BMZ-38, ground starters AS-2 etc. Also armoured vehicles BA-6 and BA-10 were produced on base of GAZ-AAA chassis. Because of military norms, shortage of metal and components during war period was developed and produced simplistic variant of trucks. The differences of wartime trucks were welded wings, simplified cab, bumper and right headlight were missed, brakes were installed only on the rear wheels. Because of the cold winter canvas top and wooden doors were placed into the cab in 1943.
Počakajte, Iskanje MiniArt 35133 za vas...
Počakajte, Iskanje GAZ Tovornjak za vas...
Vidite lahko tudi :
Find items about "MINIART 1:35" on AliExpress:
Ogledov : 368
Iskanje z:
miniart 35133
c amions gaz AAA
1/35 MINIART 35133
miniart ba64
miniart 35086
1943 miniature ceramic german cars trucks
miniature militaire deagostini urss vente ebay
miniart gaz trucks
камиони от втората световна война газ
miniart 35133 газ-ааа м 1943
miniart truck
maksim kuulipilduja rattad
Kraz 214b images
gaz aaa szovjet teherautók
gaz aaa 1943 miniart
cargo URSS 1940
camios gaz aaa
camion gaz aaa 1943
camion Ford 1943
BA cargo lorry