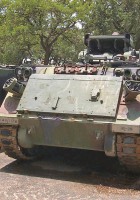 M901 ITV

Land
USA
Type

Improved TOW Vehicle

Fotograf

Paul Truhe

Emnet

Album av

25

photos walk-around of a «M901 ITV»
Bildegalleri av en M901 ITV,
The M901 ITV (Improved TOW Vehicle) is a United States Army armored vehicle introduced into service in 1979, and designed to carry a dual M220 TOW launcher. It is based on the ubiquitous M113 Armored Personnel Carrier chassis. The M901 ITV is no longer in front line service with the US Army.
Kilde: M901 on Wikipedia
Wait, Searching M901 ITV photos for you…
Wait, Searching M901 ITV for you…
Find items about "Armored vehicle" on AliExpress (c):
Views : 296
Søk etter:
bilder m901
blindado m114
documentation sur le vehicule a l avant blindé
m728 combat engineer vehicle
m901 itv walk around
vehecule de combat