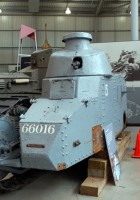 Renault FT 17

Riik
Prantsusmaa
Tüüp
Kerge Tank
Tootmine
3694 (1917-1918)
Euroopa Renault FT (frequently referred to in post-World War I literature as the FT-17, FT17, or similar) was a French light tank that was among the most revolutionary and influential tank designs in history. The FT was the first production tank to have its armament within a fully rotating turret. The Renault FT's configuration – crew compartment at the front, engine compartment at the back, and main armament in a revolving turret – became and remains the standard tank layout. As such, some historians of armoured warfare have called the Renault FT the world's first modern tank.
Allikas: Renault FT 17 on Wikipedia
Renault FT 17
Fotograaf
Unknow
Lokaliseerimine
Unknow
Fotod

24
Ei ole valitud galeriisse või galerii kustutatud.
Wait, Searching Renault FT 17 for you…

Wait, Searching Renault FT 17 photos for you…

Seotud komplektid:
Clic Otsing
Leia komplektid kohta eBay:
Otsi eBay
Otsida, mida sa vajad, soovitame kuid see on teile, kes otsustab
Näete ka :
Renault FT 17 – WalkAround

alates NetMaquettes
Vaatamisi : 2530