Ref
6495
Type
Maquette
scale
1/35
Topic

Sd.Kfz.184 Ferdinand Kursk 1943
A kit of the brand Dragon Model the model : Sd.Kfz.184 Ferdinand Kursk 1943 – DML 6495.
The Elefant (German for "elephant") was a "schwerer Panzerjäger" (heavy tank destroyer) of the German Wehrmacht used in small numbers in World War II. It was built in 1943 under the name Ferdinand, after its designer Ferdinand Porsche. In 1944, after modification of the existing vehicles, they were renamed Elefant. The official German designation was Panzerjäger Tiger (P) and the ordnance inventory designation was Sd. Kfz. 184.
Source: Sd.Kfz.184 sur Wikipedia
Wait, Searching DML 1:35 for you…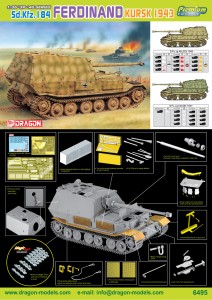 Wait, Searching Ferdinand Kursk 1943 for you…
You can see also :
Find items about "tank Ferdinand" on AliExpress (c):
Views : 520
Find by:
dragon 6495
ferdinand sd kfz 184
ferdinand tank tamiya
Sd Kfz 184 Elefant osprey
dragon 6495 review
dragon elefant
schwerer Panzerjaeger Elefant
dragon - ferdinand - kursk 1943
Sd Kfz 184 Ferdinand Kursk 1943
review elephant tamiya
panzer modellbausatz 1:35 wwii sd kfz 184 ferdinand von dragon
ドラゴン 6495
フェルディナンド重駆逐戦車
dragon elefant 1/72 review
1/35 フェルディナント クルスク
6495 Sd Kfz 184 Ferdinand Kursk 1943
bedford ql 4x4 airfix
dragon 1/35 sd kfz 184 elephant model kit
dragon 1/35 elefant kursk review
dragon - sd kfz 184 ferdinand kursk 1943 premium edition