Trucks & Tanks Magazine

Editor
:
Caraktère
Title
:
Vorpanzer & tank protection Les blindages et surblindages of the tank
Ref
:
13
Topics
:

Vorpanzer & tank protection, KV, S Bolshoi Bashnei, DIAMOND T M20, FCM 2C ...
– Vorpanzer & Panzerschutz Les blindages et surblindages des Panzer Traditionnellement, un char est défini par trois caractéristiques : sa puissance de feu, sa mobilité et sa protection. Les deux premiers critères sont considérés comme offensifs. L'armement du blindé est en effet destiné à assurer la destruction des cibles tandis que la mobilité sert à porter le feu. La protection est souvent perçue comme passive. Elle est la combinaison de l'épaisseur du blindage, de la qualité des alliages et de l'inclinaison des surfaces. Schématiquement, la protection assure la capacité de survie de l'équipage face aux armes antichars adverses. Son rôle va toutefois au-delà d'une « simple » protection passive. Un équipage en confiance sera naturellement plus offensif, n'hésitant pas à aller au combat. Un blindage résistant démultiplie l'efficacité globale du blindé. Les performances au combat des Tiger ne sont pas uniquement dues au potentiel du char mais aussi au fait que les Panzerschützen prenaient des risques face à leurs adversaires. Les Panzer de première génération sont en retrait dans ce domaine et n'assurent que de faibles chances de survie à leurs équipages. Tirant les leçons des affrontements, les Allemands vont chercher à rattraper leur retard pour doter leurs chars de Panzerschutz (blindage) et Vorpanzer (surblindage) les plus performants possibles. – KV S BOLSHOI BASHNEI Le titan sacrifié L'apparition des KV-2 sur le champ de bataille est une douloureuse surprise pour l'Armée allemande. Ce blindé de 52 tonnes n'a en effet aucun équivalent dans les arsenaux de la Wehrmacht. De surcroît, ce mastodonte se montre pratiquement imperméable aux armes antichars disponibles en 1941. Forgée au gré de coups d'éclats, une légende venait de naître. Conçu pour être un destructeur de bunker, ce canon automoteur, aux allures de char de combat, est armé d'un obusier de 152 mm auquel rien ne résiste. Lancé dans la tourmente de l'opération « Barbarossa », le KV-2 était-il le blindé le mieux adapté pour endiguer l'offensive allemande ?
Wait, Searching Review TnT 13 for you...
– DIAMOND T M20 Un « diamant » américain pour la couronne britannique Les vastes étendues d'Afrique du Nord, parcourues par les Armées britanniques, italiennes et allemandes à partir de 1940, offrent un terrain idéal pour les grandes opérations des forces mécanisées. Elles mettent aussi à rude épreuve la mécanique parfois fragile des véhicules blindés de combat. Peu favorisés par l'endurance de leurs chars, les Britanniques comprennent rapidement que si ces derniers doivent parcourir de longues distances par leurs propres moyens, moteur, transmission et chenilles n'y résisteront pas. Puisque les camions porte-chars sont devenus obsolètes depuis l'augmentation radicale du poids des chars, il faut s'en remettre à d'autres transporteurs. – FCM 2C Un cuirassé terrestre à la française Les premiers chars qui apparaissent sur les champs de bataille de la Première Guerre mondiale ne répondent qu'imparfaitement aux besoins des Armées anglaise et française. À l'instar du Saint-Chamond, ces véhicules affichent des performances médiocres, notamment sur le plan du franchissement, qui les cantonnent dans un rôle marginal face aux défenses allemandes. …
Source: Trucks & Tanks Magazine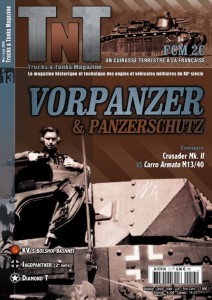 Wait, Searching Vorpanzer for you...
Views : 307
Find by:
bashnei
wo2 daimond t m20
vorpanzer effectiveness
vorpanzer & panzerschutz
vorpanzer
tnt magazine tank pdf
TANQUE VORPANZER
prototypes de chars russes klimenti voroshilov
panzershlautz
panzerschutz panzer
panzer kv-1
motorenreparatur junker denière guerre
maquette du porte char diamond t m20
KV-13 plan
kv 2b pansar
https://yandex ru/clck/jsredir?from=yandex ru;search;web;;&text=&etext=1827 E4C-5kReX32sk2msRZH9ZJy9pPHBKDqBd_rICRXKX7yOy3zOZdG0091f5BicdW1s 870e81d8a0e576979d09be075be657a6df965ebf&uuid=&state=_BLhILn4SxNIvvL0W45KSic66uCIg23qh8iRG98qeIXme
dragon 6301
першинг танк