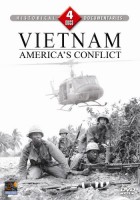 Vietnam War: America's Conflict
Various
Genre : Documentary
Issue :
0
6/05/2008
Studio :
Mill Creek Entertainment
Duration :
1406
Country :
Zda
Languages :
angleščina
Language :
sl
Discs :
4
Media :
DVD
Features :
Box set
Video Format :
NTSC
IMdB :
0
280184
UPC :
0
683904506375
Starring :
Documentary
Tags :
Vietnam
Summary :
Be an eyewitness to the conflict that divided our nation and changed the very fabric of society. This collection of harrowing and compelling footage traces the evolution of this conflict from a regional military engagement to an ever-expanding war that ultimately spanned three U.S. Presidents. From strategic political move to the immediacy of jungle warfare and the weapons with which the war was waged, Vietnam: America''s Conflict captures the sweep of history and the agony of a generation. Program list: 1st Air Cavalry in Vietnam1st Infantry in Vietnam4th Infantry Division9th Infantry Division11th Armored Cavalry Regiment82nd Airborne DivisionThe Airmobile DivisionThe American Navy in VietnamAnother Day of War - The USAF in VietnamBattle (Part 1)The Battle of Khe SanhBeans, Bullets and Black Oil (Narrated by Henry Fonda)Contact - Ambush (Part 2)A Day in VietnamThe Drill SergeantThe Face of RescueA Few Good MenFor Thou Art With MeFull BladeThe Gentle HandHall of HonorThe Hidden War in VietnamHistory of the Air Force - Vietnam and AfterKhe Sanh: Victory for Air PowerKnow Your Enemy: The Viet CongMarines, 1965A Nation Builds Under FireNight of the DragonNo Substitute for VictoryOperation MontagnardPOW - A Report on Captivity in Southeast AsiaProgress to PeaceReady to StrikeRed Chinese Battle PlansReport on Marine ActivitiesRiver PatrolSand and SteelScreaming Eagles in VietnamSky SoldiersSmall Boat NavySparrow HawkThere is a WayThis is Parris Island (Marine training 1969)To Save a SoldierTwenty Five Hour DayThe Unique WarThe United States Air Force in VietnamVietnam: The Big PictureVietnam: P.O.W. Code of ConductVietnam CrucibleVietnam! Vietnam!War and AdviceWhy Vietnam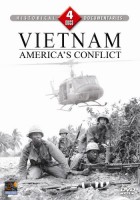 These documentaries are riveting viewing for 2 reasons: For the extent and level of propaganda put out by the government to sell this war to the American people, and for the other extreme, the brutal footage of the war itself, as in the "To Save a Soldier" segment on disc 4, which shows such incredible heroism among the enlisted men and women. Some are in b&w, some color, and most are in good condition despite their age. There are some clips you will see in more than 1 film, especially the one of Sgt. Bill Belch speaking Vietnamese as he shows villagers how to use a gun. Part spin, part deception, and part truth, this set is a treasure trove for anyone interested in Vietnam, where now the Ford Motor Co. has an assembly plant 35 miles from Hanoi (in a strange twist of fate, Robert McNamara was once a president of Ford).