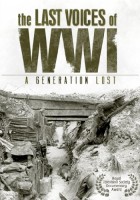 The Last Voices of WWI - A Generation Lost
Vários
Gênero:
Questão:
22/03/2011
Studio:
Mill Creek Entertainment
Duração:
221
Idiomas:
Inglês
Idioma:
En
Discos:
2
Mídia:
Dvd
Formato de vídeo :
Ntsc
Região:
1
Upc:
0
683904521590
Estrelando:
Vários
Resumo:
Horrors of World War I are relived as last survivors tell their tales in this new series The Last Voices of WWI is a unique and harrowing six-part documentary series featuring testimonials from more than 100 WWI veterans. This culmination of interviews captured over the last 15 years has been put together in one series for the first time, along with historic newsreel footage and dramatic reconstructions. Winner of a Royal Television Society Documentary Award (2009), this breathtaking series is praised for providing a unique historical record of a lost generation. Aired on the History Channel UK, 2008 Produced by multi-award winning documentarians testimony films Features the first ever interview with Harry Patch and the only ever interview with Henry Allingham, the two last surviving veterans of the war and oldest men in the world at the respective ages of 111 and 113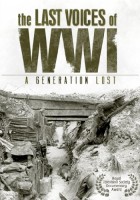 This is a very well produced and valuable program that honors and preserves the history and sacrifice of British soldiers during World War One. Veterans, some well into 100+ years of age, were interviewed over a 15 year period. Harry Patch aged 111 and Henry Allingham aged 113 are featured as well as the Battles of the Somme, Arras and Ypres. The RFC/RNAS/RAF is nicely represented! The program has six episodes, slightly less than 4 hours of interviews, archival film footage and reenactments that complement the story. I particulary enjoyed watching and listening to how the veterans related their stories. This program is a must have for anyone with an interest in World War One! Other DVD programs that I recommend are
The First World War – The Complete Series
The Complete Story: World War I
e
World War I: The Great War
.