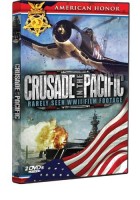 World War II In The Pacific - Collector's Edition
TGG Direct
Sjanger :
Problemet :
0
9/03/2012
Studio :
TGG Direct
Varighet :
601
Språk :
Engelsk
Språk :
i
Plater :
5
Media :
DVD
Video Format :
NTSC
UPC :
00
11891512084
Skuespillere :
Joseph Stalin, Adolf Hitler, Franklin Roosevelt, Hirohito
Oppsummering :
World War II in the Pacific Collector's Edition chronicles the riveting events that led up to Japan's surprise bombing of the U.S. Naval base at Pearl Harbor on December 7, 1941. The collection details the many air, land and naval engagements that ensued from 1942 until the defeat of Japan in 1945. The rarely seen war film footage used in this set places you right in the middle of the action and gives all Americans a better understanding of the valor, courage and sacrifices the men and women of our armed forces gave during their duty in World War II. The award winning series includes: The Pacific in Eruption, Awakening in the Pacific, The Rise of the Japanese Empire, America Goes To War in the Pacifc, The US and the Philippines, The Navy Holds - 1942, Guadalcanal (America's First Offensive), War in the North, Attack in Central Pacific: Makin and Tarawa, The War at Sea, The Road Back: New Guinea, Up The Solomon's Ladder: Bougainville, Speeding Up the Attack, Stepping Stones to the Philippines, Palau: The Fight for Bloody Nose Ridge, MacArthur Returns to the Philippines, Battle for the Marianas, The War in China-Burma-India Theater, Bloody Iwo, At Japan's Doorstep, Okinawa, The Air War on Japan, The Surrender and Occupation of Japan, Shifting Tides in the Orient, War in Korea. "This product is manufactured on demand using DVD-R recordable media. Amazon.com's standard return policy will apply."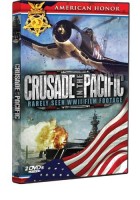 I'm a huge World War II buff and I bought this on a whim having never seen the series before. And I gotta say, I'm really glad that I did. This is an incredibly in-depth series filled with rarely seen war film footage that really gives you a sense of what it was like. This series is incredibly informative about the events preceding Pearl Harbor and the events following it. This is a great series for any proud American and Historian. I highly recommend it.