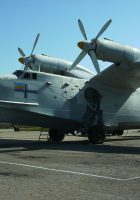 Essere-12P

Paese
Unione Sovietica
Tipo
Maritime patrol aircraft
Periodo
1960-ora
Costruito
143
Il Beriev Be-12 Chayka ("Seagull", NATO reporting name: Mail) is a Soviet turboprop-powered amphibious aircraft designed for anti-submarine and maritime patrol duties. The Beriev Be-12 was a successor to the Beriev Be-6 flying boat, whose primary roles were as an anti-submarine and maritime patrol bomber aircraft. Though tracing its origins to the Be-6, the Be-12 inherited little more than the gull wing and twin oval tailfin configuration of the older aircraft. The Be-12 had turboprop engines, which gave it an improved speed and range over the Be-6. The Be-12 also had retractable landing gear, which enabled it to land on normal land runways, as well as water.
Fonte: Essere-12 su Wiki
Attendere, Ricerca Beriev Be-12 foto per voi...

Beriev Be-12 Piedi Intorno
Fotografo
Unknow
Localizzazione
Unknow
Foto
40
Attendere, Ricerca Beriev Be-12...

Essere-12 (versione Completa) andare in Giro
Fotografo
Unknow
Localizzazione
Unknow
Foto
81
Beriev Be-12 Chaika Walk Around
Fotografo
Vladimir Yakubov
Localizzazione
Russian Air Force Museum
Foto
Settanta
Correlati kit:
Trovare i kit su eBay:
Cerca su eBay
Ricerca di che cosa avete bisogno, Noi suggeriscono questo, ma sta a voi decidere
Si può vedere anche :
Vista : 2174
Trovare da: