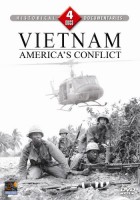 Guerre du Vietnam: l'Amérique du Conflit
Divers
Genre : Documentaire
Question :
06/05/2008
Studio :
Mill Creek Entertainment
Durée :
1406
Pays :
États-unis
Langues :
Anglais
Langue :
fr
Disques :
Quatre
Médias :
DVD
Caractéristiques :
Coffret
Format Vidéo :
NTSC
IMdB :
0280184
UPC :
0683904506375
Mettant en vedette :
Documentaire
Tags :
Vietnam
Résumé :
Be an eyewitness to the conflict that divided our nation and changed the very fabric of society. This collection of harrowing and compelling footage traces the evolution of this conflict from a regional military engagement to an ever-expanding war that ultimately spanned three U.S. Presidents. From strategic political move to the immediacy of jungle warfare and the weapons with which the war was waged, Vietnam: America''s Conflict captures the sweep of history and the agony of a generation. Program list: 1st Air Cavalry in Vietnam1st Infantry in Vietnam4th Infantry Division9th Infantry Division11th Armored Cavalry Regiment82nd Airborne DivisionThe Airmobile DivisionThe American Navy in VietnamAnother Day of War - The USAF in VietnamBattle (Part 1)The Battle of Khe SanhBeans, Bullets and Black Oil (Narrated by Henry Fonda)Contact - Ambush (Part 2)A Day in VietnamThe Drill SergeantThe Face of RescueA Few Good MenFor Thou Art With MeFull BladeThe Gentle HandHall of HonorThe Hidden War in VietnamHistory of the Air Force - Vietnam and AfterKhe Sanh: Victory for Air PowerKnow Your Enemy: The Viet CongMarines, 1965A Nation Builds Under FireNight of the DragonNo Substitute for VictoryOperation MontagnardPOW - A Report on Captivity in Southeast AsiaProgress to PeaceReady to StrikeRed Chinese Battle PlansReport on Marine ActivitiesRiver PatrolSand and SteelScreaming Eagles in VietnamSky SoldiersSmall Boat NavySparrow HawkThere is a WayThis is Parris Island (Marine training 1969)To Save a SoldierTwenty Five Hour DayThe Unique WarThe United States Air Force in VietnamVietnam: The Big PictureVietnam: P.O.W. Code of ConductVietnam CrucibleVietnam! Vietnam!War and AdviceWhy Vietnam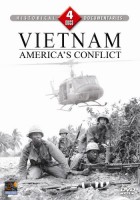 Format:DVD
Ces documentaires sont rivetage de visualisation pour 2 raisons: Pour l'étendue et le niveau de propagande mis en place par le gouvernement de vendre cette guerre pour le peuple Américain, et pour l'autre extrême, la brutalité des images de la guerre elle-même, comme dans le « Pour Sauver un Soldat » segment sur le disque 4, qui montre aussi incroyable héroïsme chez les gradés et les femmes. Certains sont en b&w, un peu de couleur, et la plupart sont en bon état malgré leur âge. Il y a quelques éléments que vous verrez dans plus de 1 film, en particulier celui de Sergent Bill Rot parlant le Vietnamien comme il le montre villageois comment utiliser une arme à feu. Une partie de la rotation, de la partie de la tromperie, et une partie de la vérité, cette série est un véritable trésor pour quiconque s'intéresse au Vietnam, où maintenant la Ford Motor Co. a une usine d'assemblage à 35 km de Hanoi (dans un étrange coup du sort, Robert McNamara était une fois un président de Ford).