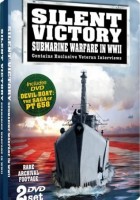 Silent Victory: Submarine Warfare in WWII - Embossed Slim-Tin Packaging
Crier! Usine
Genre : Documentaire
Question :
0
4/12/2012
Studio :
Crier! Usine / Timeless Media
Durée :
160
Langues :
Anglais
Langue :
fr
Disques :
2
Médias :
DVD
Format Vidéo :
NTSC
Son :
Dolby
Région :
1
UPC :
00
11301657169
Mettant en vedette :
n/a
Résumé :
After the devastating losses to America's Pacific Fleet in the surprise attack on Pearl Harbor, the Japanese Imperial Navy ruled supreme in the vast Pacific Ocean. In time, the Pacific Fleet was able to rebuild to take on the Japanese. Much of the publicity went to the aircraft carriers and the Naval Aviators who flew from their decks. Yet, as important as the carriers were, the most significant naval warships in actually prosecuting the war toiled in almost complete obscurity. While battles like those that occurred at Midway, Santa Cruz and Leyte Gulf grabbed the headlines, the Pacific Fleet Submarine Force quietly went about the task of isolating Japan. The submarine fleet crippled Japan's industry and prevented re-supply and reinforcement of Japanese island garrisons by virtually destoying her merchant fleet. "Silent Victory" includes rare archival footage of epic naval battles and exclusive veteran interviews, covering the submarine war from the declaration of unrestricted submarine warfare after Pearl Harbor to Japan's unconditional surrender in Tokyo Bay. "Devil Boat" follows a group of Portland, Oregon PT Boat veterans as they attemt to resurrect a PT boat from the ravages of time and neglect, sixty years after the war's end. Their aim was to restore PT 658 to its original state, complete with armaments and the original compliment of three 1,200-horsepower Packard engines.