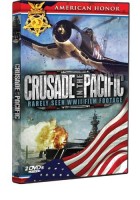 World war II In The Pacific - Collector ' s Edition
TGG Direct
Genre :
Problem :
09/03/2012
Studio :
TGG Direct
Dauer :
601
Sprachen :
Englisch
Sprache :
in
Scheiben :
5
Medien :
DVD
Video-Format :
NTSC
UPC :
0011891512084
Darsteller :
Joseph Stalin, Adolf Hitler, Franklin D. Roosevelt, Hirohito
Zusammenfassung :
World War II in the Pacific Collector's Edition chronicles the riveting events that led up to Japan's surprise bombing of the U.S. Naval base at Pearl Harbor on December 7, 1941. The collection details the many air, land and naval engagements that ensued from 1942 until the defeat of Japan in 1945. The rarely seen war film footage used in this set places you right in the middle of the action and gives all Americans a better understanding of the valor, courage and sacrifices the men and women of our armed forces gave during their duty in World War II. The award winning series includes: The Pacific in Eruption, Awakening in the Pacific, The Rise of the Japanese Empire, America Goes To War in the Pacifc, The US and the Philippines, The Navy Holds - 1942, Guadalcanal (America's First Offensive), War in the North, Attack in Central Pacific: Makin and Tarawa, The War at Sea, The Road Back: New Guinea, Up The Solomon's Ladder: Bougainville, Speeding Up the Attack, Stepping Stones to the Philippines, Palau: The Fight for Bloody Nose Ridge, MacArthur Returns to the Philippines, Battle for the Marianas, The War in China-Burma-India Theater, Bloody Iwo, At Japan's Doorstep, Okinawa, The Air War on Japan, The Surrender and Occupation of Japan, Shifting Tides in the Orient, War in Korea. "This product is manufactured on demand using DVD-R recordable media. Amazon.com's standard return policy will apply."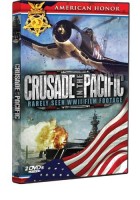 Ich bin ein riesiger zweiten Weltkrieg buff und ich kaufte dieses aus einer Laune heraus haben noch nie gesehen, die Serie vor. Und ich muss sagen, ich bin wirklich froh, dass ich getan habe. Dies ist ein unglaublich in der Tiefe Reihe gefüllt mit einer selten gesehenen Krieg Filmmaterial, das wirklich gibt Ihnen ein Gefühl davon, wie es war. Diese Serie ist unglaublich informativ über die Ereignisse vorhergehenden Pearl Harbor und den Ereignissen Folgen zu können. Dies ist eine großartige Serie für alle stolzen Amerikaner und Historiker. Ich kann es nur wärmstens empfehlen.