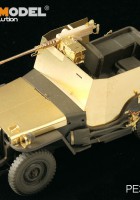 Ref
PE35195
Type
Photo-cut -
Scale
1/35
Topic

Set U. S. Jeep Willys MB w/Add Amour
For Tamiya 35219
A kit 2011 home Voyager Model the set of photo "U. S. Jeep Willys MB w/Add Amour (For TAMIYA 35219) – VOYAGER MODEL PE35195".
Histoire: The Willys MB is almost identical to the Ford GPW, was manufactured from the year 1941 until 1945. The u.s. army called this type of vehicles " GP "for an abbreviation of" General Purpose " (" purpose-general " in French). They are considered as one of the emblems of the Second world War.
Over the years, the Jeep of the second world war has then evolved into " CJ "for an abbreviation of" Civilian Jeep " (Jeep calendar in French) and has been recognized as a symbol of adventure.
Source: Williys on Wikipedia
Wait, Searching VOYAGER MODEL PE35195 for you...
Wait, Searching U. S. Jeep Willys MB for you...
Willys MA prototype jeep, 1941.
Wehrmacht soldiers with captured Jeep Willys in Russia 1942
An SAS Willys MB Jeep 4x4 manned by Sergeant Schofield and Trooper Jeavons of 1st SAS near Geilenkirchen, Germany: November, 18 1944. The jeep is armed with three Vickers 'K' guns, and fitted with armored glass shields in place of a windscreen. The SAS were involved at this time in clearing snipers in the 43rd Wessex Division area.
Find items about "Jeep Willys MB" on AliExpress (c):
Find by:
MBジープ
rc willys
armored willys jeep
pe35195
willys jeep being shipped
фото sd kfz 7/1 20mm flakvierling
voyager model jeep with armour
willys mb jeep scale rc
макет автомобиля джип
rc model jeep willys
rc model jeep 1/35
tamiya 1/35 u s willys mb jeep 35219 nib
modeling the tamiya mb jeep
MB コーションプレート
MB jeep コーションプレート
maquette jeep willys armoured
m38 コーション プレート
jeeps tamiya wikipedia
 ジープ MB GPW  コーションプレート
jeep mb tamiya rc