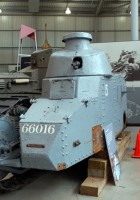 Renault FT-17

Landet
Frankrike
Typ
Lätt Tank
Produktion
3694 (1917-1918)
Den Renault FT (frequently referred to in post-World War I literature as the FT-17, FT17, or similar) was a French light tank that was among the most revolutionary and influential tank designs in history. The FT was the first production tank to have its armament within a fully rotating turret. The Renault FT's configuration – crew compartment at the front, engine compartment at the back, and main armament in a revolving turret – became and remains the standard tank layout. As such, some historians of armoured warfare have called the Renault FT the world's first modern tank.
Källa: Renault FT 17 on Wikipedia
Renault FT 17
Fotograf
Unknow
Läge
Unknow
Foton
24
Vänta, Söker Renault FT-17 för dig...

Vänta, Söker Renault FT-17 bilder för dig...

Relaterade kit:
FRENCH FT-17 Light Tank (Riveted Turret)
Meng Modell
1:35
Full kit
Klicka för att Söka
Hitta kit på eBay:
Sök på eBay
Sök efter vad du behöver, Vi föreslår detta, men det är du som bestämmer
Du kan också se :
Renault FT-17 – WalkAround från NetMaquettes
Visningar : 2224
Hitta genom att:
renault ft-17
ft17
ft 17
ルノーFT17
ft-17 walkaround
takom renault ft-17
renault ft tank
osprey renault ft-17
雷诺17T
renault ft 17 1/35 tamiya
renault ft-17 tank pictures
maquette renault ft 17 tank
maquette ft 17
images of the takom renault ft17 tank 1/16th scale
ft17 tracks
FT17 TANK WALK AROUND
ft-17 tank photos
ft-17 ftf
ft-17
ft 17 Takom