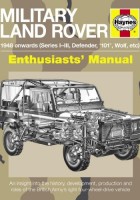 Military Land Rover: 1948 Onwards
Pat Ware
Genre : Historia
Ämnen :
Transportation, Automotive, General
Fråga :
31/12/2012
Redaktör :
Utgivare :
Haynes Publishing
Format :
Inbunden
Sidor :
160
Språk :
sv
Mått :
10.63 x 8.27 x 0.87 in
ISBN-10 :
9780857330802
ASIN :
0
857330802
Land Rovers have been used by the military since they were introduced, in Series I form, in 1948. The Land Rover's rugged, 'go-anywhere' reputation has led to its use in a vast number of military roles, from general-purpose workhorse to special forces reconnaissance vehicle, ambulance, communications vehicle and weapons platform. Additionally, a number of one-off prototypes have been produced for various trials. This manual provides a unique insight into the world of military Land Rovers, with an emphasis on military operation and equipment.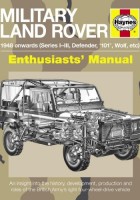 Om Författaren
Pat Ware
is one of Britain's foremost authorities on military transport. He is a former Editor of Classic Military Vehicle magazine, and has written numerous books about military vehicles. He is an authority on military Land Rovers, and has previously written a pictorial history on the subject for Ian Allan.
Hitta genom att:
land rover ambulance manual
Military Land Rover: 1948 Onwards