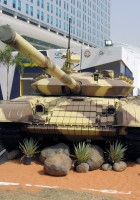 T-72B

Country
Soviet Union
Type
Main battle tank
Photograph
Michael Rener
Description
Album of

13

photos walk-around of a «T-72B»
Photo gallery of a T-72B,
The T-72 is a Soviet second-generation main battle tank that entered production in 1971. About 20,000 T-72 tanks were built, making it one of the most widely produced post–World War II tanks, second only to the T-54/55 family. The T-72 was widely exported and saw service in 40 countries and in numerous conflicts. Improved variants are still being built for export customers.
T-72B (1985):
New main gun, stabilizer, sights, and fire control, capable of firing 9M119 Svir guided missile, additional armour including 20 mm (0.8 in) of appliqué armour in the front of hull, improved 840 hp (630 kW) engine.
Source: T-72B on Wikipedia
Wait, Searching T-72B photos for you…
Wait, Searching T-72B for you…
Service history
In service : 1973–present
Production history
Designer : Leonid Kartsev-Valeri Venediktov
Designed : 1967–1973
Manufacturer : Uralvagonzavod
Produced : 1973–present
Number built : 25,000+
Specifications (T-72A)
Weight : 41.5t
Length : 9.53m
Width : 3.59m
Height : 2.23m
Crew : 3
Armour steel and composite armour
Main armament : 25 mm smoothbore gun
Secondary armament :
-7.62mm PKT coax machine gun
-12.7mm NSVT antiaircraft machine gun
Engine : V-12 diesel
Operational range : 460km, 700km with fuel drums
Speed : 60km/h
Find items about "Main battle tank" on AliExpress (c):
Find by:
1/16 ロシア T-90
manufacturer of engine loc:FR
T 72 MBT TRUMPETER 00924 model 1/16
t-72 B walkarround
t-72a walkaround
t-72b photos
T-72BV photo
t-90 tank walkaround