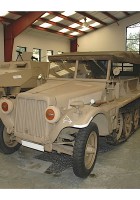 Sonderkraftfahrzeug 10 – SdKfz 10

Country
Germany
Type
Semi-tracked
Topic

Album

157

photos of the Sdkfz.10
Gallery photo on a Sdkfz.10, The SdKfz 10 (Sonderkraftfahrzeug 10) was a halftrack German, who knew no more than a limited use during the Second world War. It could carry eight men and tow anti-tank guns. It was produced approximately 17,000 copies between 1937 and 1944. The concept on which was based the vehicle was further developed with the SdKfz 250.



>Source: SdKfz 10 on Wikipedia Source: SdKfz 10 by toadmanstankpictures.com
Wait, Searching Sdkfz.10 photos for you...
Wait, Searching Sdkfz.10 for you...
Find by:
sdkfz 10
sdkfz 10/5
sdkfz10
sd kfz 10 walkaround
sdkfz10/5 dragon walkaround
sd kfz 10/4 walkaround
sd kfz 10 WALK AROUND
sdkfz10
sdkfz 10/5 walkaround
фото sdkfz10
famo half track pictures
sdkfz 10 4 walkaround
demag sdkfz10/5 dragon обсудить на форуме
Sd Kfz 10/4
walk around sd kfz 10
sdkfz 10 5 walkaround
gsdkfz 10
sd kfz 10 tamiya
Sd Kfz 10 50 cm Pak
photos du GERMAN SDKFZ 10/4 FUR 2CM FLAK 30