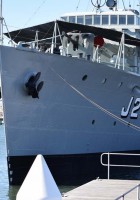 HMAS Castlemaine (J244)

Country
Australia
Type
Corvette
Photograph
Vladimir Yakubov
Locate
Melbourne, Australia
Description
Album of

89

photos walk-around of a «HMAS Castlemaine (J244)»
Photo gallery of a HMAS Castlemaine (J244), HMAS Castlemaine (J244/M244/A248), named for the city of Castlemaine, Victoria, was one of 60 Bathurst-class corvettes constructed during World War II, and one of 36 initially manned and commissioned solely by the Royal Australian Navy (RAN). Launched in 1941 and commissioned in 1942, Castlemaine operated during World War II in the waters of Australia, New Guinea, and Timor. She remained in service until 1945, when she was decommissioned into reserve and converted into an immobilised training ship. In 1973, Castlemaine was presented to the Maritime Trust of Australia for conversion of a museum ship. She is one of two surviving examples of the Bathurst class, the other being HMAS Whyalla.
Source: HMAS Castlemaine (J244) on Wiki
Wait, Searching HMAS Castlemaine (J244) photos for you…
Wait, Searching HMAS Castlemaine (J244) for you…
Infos
Namesake
City of Castlemaine, Victoria
Builder
HMA Naval Dockyard in Williamstown
Laid down
17 February 1941
Launched
7 August 1941
Commissioned
17 June 1942
Decommissioned
14 December 1945
Related kits:
Find kits on eBay:
Search on eBay
Search for what you need, We suggest this but it is you who decide
You can see also :
Views : 1084
Find by: