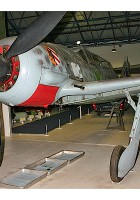 Focke-Wulf Fw 190S

Country
 :  
Germany
Type
 :  
Chasseur bombardier
Description
 :  

24 photo walk-around of a fighter-bomber album Focke-Wulf Fw 190S
Photo on a Focke-Wulf Fw 190 S Gallery, the Focke-Wulf Fw 190 Würger was a one-seater and single-engine fighter-bomber used by the Nazi Germany during the second world war, from 1941 to 1945. The FW-109 never managed to completely replace the Messerschmitt Bf 109 as a senior fighter from the LuftwaffeAlthough it was higher. It was produced more than 20,000 copies. Thanks to its resulting versatility of a modular construction, it gave birth to a large number of derived models which enabled him to replace the Junkers Ju 87 (Stuka) as a support of the ground troops, and the Messerschmitt Bf 110 heavy fighter to combat the bombers, when these last two aircraft as became much too vulnerable to continue to be sent to the fight. He was the first true fighter-bomber of the Luftwaffe.
Source: Focke-Wulf Fw 190 on Wikipedia
Wait, Searching Focke-Wulf Fw 190 S photos for you...
Searching Focke-Wulf...
Find by:
fw 190 walkaround
fw190d9 engine detail
fw 190
fw190a walkaround
1/32 FW 190 MODEL GALLERY
FW-190 walk around
fw-190 walkaround
Focke-Wulf FW-190
FW190 walk around
фокке вульф 190 фото
fw-190 walk around photos
fw-190d9 walk around
Fw190 aircraft walkaround
triebflugel model kits
fw190d walk around
photos de focke wulf
hasegawa 1/32fw190-a
MAQUETTES AVIONS 1/48 FOCK WULF TA 152H
most accurate fw 190 d9 model plastic reviews hasegawa 1/48
fw 190 walk around