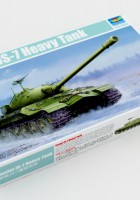 Ref
0

5586

Type
Modell kit
Skala
1/35
Emnet

Soviet JS-7 Heavy Tank
En modell av merkevaren Trumpeter settet: Soviet JS-7 Heavy Tank – Trumpeter 05586.
The kit consists of over 390+ parts :
-the kit w/refined detail
-multi-slide moulded lower hull and turret
-photo-etched parts included
In 1948, the ER-7 heavy tank was developed. Weighing 68 metric tons, thickly armoured and armed with a 130 mm C-70 gun, it was the largest tank ever built by the USSR. Although it was in many ways an innovative design, it was never accepted for mass production due to its cumbersome size and the very impractical layout of its fighting compartment.
Source: Trumpeter
Wait, Searching Trumpeter 05586 for you…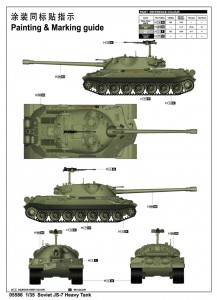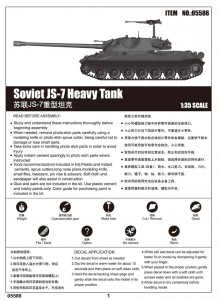 Wait, Searching Soviet JS-7 Heavy Tank for you…
Find items about "Heavy Tank 1/35" on AliExpress (c):
Visninger : 10
Søk etter:
JS-7 Trumpeter
Strike Models Hulls and Kits
1/35 soviet tank js-4 by trumpeter ebay
trumpeter js-7 soviet tank ebay china
trumpeter com
trompetis maquetas
ti 67 trumpetr
modelos trumpeter
Maquette IS-7 tank
トランペッター JS-7