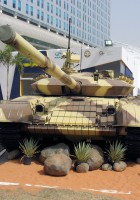 T-72B

Land
Sovjetunionen
Type
Main battle tank
Fotografi
Michael Rener
Beskrivelse
Album av

13

bilder walk-rundt av en "T-72B"
Bildegalleri av en T-72B, The T-72 is a Soviet second-generation main battle tank that entered production in 1971. About 20,000 T-72 tanks were built, making it one of the most widely produced post–World War II tanks, second only to the T-54/55 family. The T-72 was widely exported and saw service in 40 countries and in numerous conflicts. Improved variants are still being built for export customers. T-72B (1985): Nye viktigste pistol, stabilisator, severdigheter, og brann-kontroll, som kan avfyre 9M119 Svir guided missile, ekstra utstyr, inkludert 20 mm (0.8 in) av påsydde rustninger i front av skrog, bedre 840 hp (630 kW) motor.
Kilde: T-72B på Wikipedia
Vent, Søking T-72B bilder for deg...
Vent, Søking T-72B for deg...
Service historikk
I tjenesten : 1973–nåværende
Produksjon historie
Designer : Leonid Kartsev-Valeri Venediktov Designed : 1967–1973 Manufacturer : Uralvagonzavod Produced : 1973–present Number built : 25,000+
Spesifikasjoner
(T-72A) Weight : 41.5t Length : 9.53m Width : 3.59m Height : 2.23m Crew : 3 Armour steel and composite armour Main armament : 25 mm smoothbore gun Secondary armament : -7.62mm PKT coax machine gun -12.7mm NSVT antiaircraft machine gun Engine : V-12 diesel Operational range : 460km, 700km with fuel drums Speed : 60km/h
Du kan se også :
Find items about "Main battle tank" on AliExpress (c):
Visninger : 1038
Søk etter:
1/16 ロシア T-90
manufacturer of engine loc:FR
T 72 MBT TRUMPETER 00924 model 1/16
t-72 B walkarround
t-72a walkaround
t-72b photos
T-72BV photo
t-90 tank walkaround