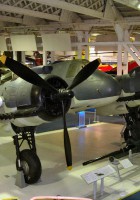 Bristol Beaufighter

Land
STORBRITANNIA
Rolle

Heavy fighter / strike aircraft

Første fly

17 July 1939

Bygget

5928
Den Bristol Type 156 Beaufighter (often referred to simply as the "Beau") is a multi-role aircraft developed during the Second World War by the Bristol Aeroplane Company in the United Kingdom. It was originally conceived as a heavy fighter variant of the Bristol Beaufort bomber. Upon its entry to service, the Beaufighter proved to be well suited to the night fighter role, for which the Royal Air Force (RAF) initially deployed the type during the height of the Battle of Britain, in part due to its large size allowing it to accommodate both heavy armaments and early airborne interception radar without major performance penalties.
Kilde: Beaufighter på Wikipedia
Vente, Søke Beaufighter bilder for deg...

Beaufighter WalkAround
Fotograf
Ukjent
Beliggenhet
Ukjent
Bilder
21
Vente, Søke Beaufighter for deg...

Bristol Beaufighter TF.X Spasertur Rundt
Fotograf
Cees Hendriks
Beliggenhet
Ukjent
Bilder
20
Relaterte kits:
Bristol Beaufighter TX.10
Airfix
A05043
1:72
Full kit
Clic for Søk
Finn sett på eBay:
Søk på eBay
Søk etter hva du trenger, Vi foreslår dette, men det er du som bestemmer
Du kan se også :
Beaufighter – WalkAround fra NetMaquettes
Views : 1904
Søk etter:
bristol beaufighter walkaround
beaufighter walkaround
Beaufighter walk around
ボーファイター
bristol beaufighter
beaufighter model
beaufighter
beaufighter mk 21
walk around bristol beaufighter
bristol beaufighter walk around
Bristol beaufighter photos
beaufighter 模型
bristol beaufighter mk 21
ブリストル ボーファイター
beaufighter VI walkaround
bristol beaufighter mk-21
ブリストルボーファイター
模型model walkaround
Beaufighter Mk21
walkaround beaufighter