Ref
A04058
Type
Modell Kit
Skala
1/72
Emnet

Nakajima B5N2 'Kate'
En modell av merkevaren Airfix settet : Grumman F4F-4 Wildcat Starter Set – Airfix A55214.
Scale: 1:72
Skill: 3
Flying Hours: 1
Number of Parts: 107
Den Nakajima B5N2 'Kate' was the most numerous Japanese torpedo bomber of the Second World War and while primarily operated as a torpedo bomber from carriers, it also saw service as a land based bomber. A single engine monoplane, it was defended by just one rearward firing machine gun, operated by the radio operator, and its relatively low speed left it vulnerable to enemy fighters, perfoming well at Pearl Harbour and going on to have success at the Battle of the Coral Sea and Midway.
Kilde: Nakajima B5N2 Sett på Airfix
Wait, Searching Airfix A04058 for you…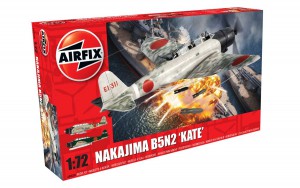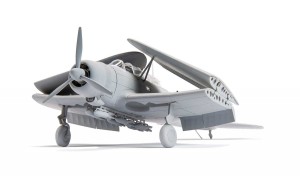 Wait, Searching Nakajima B5N2 for you…
Captured KI-84 Hayate in the US late 1945. The Nakajima Ki-84 "Hayate" was a single-seat fighter used by the Imperial Japanese Army Air Force in World War II. The Allied reporting name was "Frank"; the Japanese Army designation was Army Type 4 Fighter. Featuring excellent performance and high maneuverability, the Ki-84 was considered to be the best Japanese fighter to see large scale operations during World War II.
Nakajima Ki-43 Hayabusa fighter captured by American forces.
Downed Japanese Nakajima Ki-43 fighter
Nakajima Ki-43 (17)
The Nakajima Ki-44 Shōki (鍾馗, Zhong Kui). The Ki-44-2c version of the "Tojo" was armed with the relatively compact Ho-301 40mm heavy cannon firing caseless ammunition that was only useful at near point blank range due to very low muzzle velocity. It was used against B-29s by one special kamikaze unit (a company of four aircraft minimum) of the 47th Sentai, which specialized in bomber collision tactics,
Nakajima Ki-44
Find items about "Airfix" on AliExpress (c):
Visninger : 135
Søk etter:
a sigla de IMPERIAL JAPONESE AMY
エアフィックス KATE
modeli airfix
1/72 Airfix A04058
エアフィックス f4f
エアフィックス ロンメル
エアフィックス パールハーバー
captured Japanese Nakajima Ki-44
b5n2 airfix
airfix uk
AIRFIX pt
Airfix nakajima kate
airfix Nakajima 97
Airfix Model S
airfix b5n2
Airfix 1/72 type 97 nakajima b5n2
1/72 Airfix A04058
エアフィックス97式