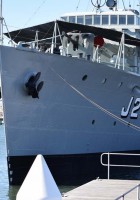 HMAS Castlemaine (J244)

Land
Australië
Type
Corvette
Foto
Vladimir Yakubov
Zoek

Melbourne, Australia

Beschrijving
Album

89

photos walk-around of a «HMAS Castlemaine (J244)»
Foto galerij van een HMAS Castlemaine (J244), HMAS Castlemaine (J244/M244/A248), named for the city of Castlemaine, Victoria, was one of 60 Bathurst-class corvettes constructed during World War II, and one of 36 initially manned and commissioned solely by the Royal Australian Navy (RAN). Launched in 1941 and commissioned in 1942, Castlemaine operated during World War II in the waters of Australia, New Guinea, and Timor. She remained in service until 1945, when she was decommissioned into reserve and converted into an immobilised training ship. In 1973, Castlemaine was presented to the Maritime Trust of Australia for conversion of a museum ship. She is one of two surviving examples of the Bathurst class, the other being HMAS Whyalla.
Wait, Searching HMAS Castlemaine (J244) photos for you…
Wait, Searching HMAS Castlemaine (J244) for you…
Info
Naamgenoot

City of Castlemaine, Victoria

Builder
HMA Naval Dockyard in Williamstown
Vastgesteld

17 February 1941

Gelanceerd
7 augustus 1941
In opdracht

17 June 1942

Uit gebruik genomen

14 December 1945
Verwante kits:
Pakketten vinden op eBay:
Zoeken op eBay
Zoeken naar wat je nodig hebt, raden We dit maar het is u die besluiten
Je kunt ook zien :
Bekeken : 1074
Te vinden door: