REF
:
35802
Type
:
Comp
Echelle
:
1/35
Description
:

A model of the 76.2 mm F-22 with horses
Une maquette de la marque ICM le kit: "76.2 mm F-22 with Horse Transport".
The ZiS-3 (Russian: 76 - mm дивизионная пушка обр 1942 года (ЗиС-3)) was a divisional field gun of 76.2 mm, used by the Soviet army during World War II. Many experts in artillery rank this canon among best artillery of World War II, with the Canon of 88 German and British 25 Pounder howitzer.
ZiS means 'Zavod imeni Stalina' (in Russian Завод имени Сталина, ' factory on behalf of Stalin'), the official name of the artillery factory No.. 92 Moscow that began the production of this canon.
Source: ZiS - 3 on Wikipedia
Wait, Searching ICM 35802 for you...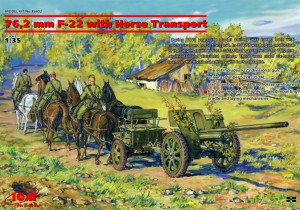 Searching 76.2 mm F-22...
Find by:
icm 35802
zis3 co oznacza skrót
Russian 76 2mm Field Gun M1936 (F22)
76 2mm F-22 Soviet Divisional Gun icm 1/35
wwii soviet divisional gun with horse transport
russian 76 2 mm F-22
Russian 76 2 Gun F 22 model
proizvejdane na diamant icm
maquettes marque icm
l1500a (kfz 70) car pessoal alemão
icm zis-3
ICM soviet modern air armament купить
icm pharma acne clear pimple treatment cream 15g
cañón f-22 de 76 2mm con caballos icm review
f22 field gun/ww2
ICM #35621
ICM 1/35 35802 76 2 mm F-22 with Horse Transport in review
ICM 35802 review
icm benz typ770
icm jak-9 72024