REF

:

35802
Type

:

Comp
Echelle

:

1/35
Description

:

A model of the 76.2 mm F-22 with horses
Une maquette de la marque ICM le kit: « 76.2 mm F-22 with Horse Transport »[object Window]
[object Window] ZiS-3 ( Russian : 76-мм дивизионная пушка образца 1942 года (ЗиС-3) was a canon divisional campaign of 76.2 mm, which is used by the'soviet army during the Second world War. A lot of'experts in artillery rank this canon among the best parts d'artillery of the Second world War, with the Barrel of a German 88, and the'howitzer of 25 books british.
ZiS means « Zavod imeni Stalina » (in Russian Завод имени Сталина, 'factory in the name of Stalin'), the official name of the factory d'artillery No. 92 Moscow, which has started the production of this gun.
[object Window] ZiS - 3 on Wikipedia
Wait, Searching ICM 35802 for you...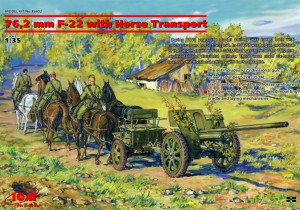 Searching 76.2 mm F-22...
Find by:
icm 35802
zis3 co oznacza skrót
Russian 76 2mm Field Gun M1936 (F22)
76 2mm F-22 Soviet Divisional Gun icm 1/35
wwii soviet divisional gun with horse transport
russian 76 2 mm F-22
Russian 76 2 Gun F 22 model
proizvejdane na diamant icm
maquettes marque icm
l1500a (kfz 70) car pessoal alemão
icm zis-3
ICM soviet modern air armament купить
icm pharma acne clear pimple treatment cream 15g
cañón f-22 de 76 2mm con caballos icm review
f22 field gun/ww2
ICM #35621
ICM 1/35 35802 76 2 mm F-22 with Horse Transport in review
ICM 35802 review
icm benz typ770
icm jak-9 72024