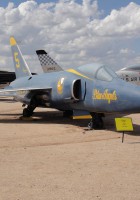 Grumman F-11A Tiger

Land
USA
Geben
Überschall-Jagdflugzeug
Fotograf
John Heck
Thema

Album

64

Fotos walk-around von einer «Grumman F-11A Tiger»
Foto-Galerie Grumman F-11A Tiger,
The Grumman F11F/F-11 Tiger was the first supersonic, single-seat carrier-based United States Navy fighter aircraft in operation during the 1950s and 1960s. Originally designated the F11F Tiger in April 1955 under the pre-1962 Navy designation system, it was redesignated as F-11 Tiger under the 1962 United States Tri-Service aircraft designation system.
The F11F/F-11 was used by the Blue Angels flight team from 1957–1969. Grumman Aircraft Corporation made 200 Tigers, with the last aircraft being delivered to the U.S. Navy on 23 January 1959.
Wait, Searching Grumman F-11A Tiger photos for you…
Wait, Searching Grumman F-11A Tiger for you…
Find items about "Grumman" on AliExpress (c):
Aufrufe : 25
Find by:
gruman tigre
maquette gruman tigre
nouvauter maquette hasegawa 2016 photo
グラマン タイガー
グラマン F-11Fタイガー