Ref
35036
Geben
Model kit
Skala
1/35
Thema

Chevrolet C60S Benzin Tank
Ein kit der Marke IBG Models das kit : Chevrolet C60S-Benzin-Tank – IBG 35036
Die IBG-Modelle Chevrolet C60S Benzin-Tanker wird geliefert mit Kabine Typ 12 und 13, und so diese bietet dem Modellbauer die Wahl, welche version Sie bevorzugen. Die mitgelieferten Bilder machen dieses Modell sieht sehr vielversprechend hinsichtlich der hinteren Pumpwerk, chassis und Fahrerhaus.
Quelle: Chevrolet on IBG Models
Warten Sie, Suche IBG 35036 für Sie...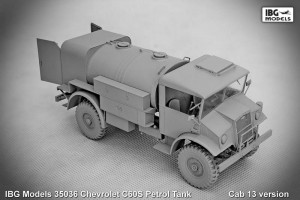 Warten Sie, Suche Chevrolet C60S Benzin Tank für Sie...
Chevrolet CMP 4x4 (1)
A Chevrolet FAT (Field Artillery Tractor) and 25-pdr field gun disembark from a tank landing craft during a large scale invasion exercise in the Gulf of Aqaba, 22 June 1943
Those of us who grew up watching The Rat Patrol harbor a latent interest in desert warfare of World War Two. While The Rat Patrol was entertaining TV, it also took some historical liberties. The series was loosely based on the British Army's Long Range Desert Group, an elite unit that used Chevrolet trucks (shown above) more often than jeeps to conduct raids and reconnaissance patrols behind the lines of the German Africa Corps.
An LRDG Chevrolet 30cwt truck ready to leave Cairo, 25 May 1942.
Chevrolet 30cwt trucks of an LRDG patrol moving out into the desert, 25 May 1942.
An LRDG Chevrolet 30cwt truck is reloaded after a tyre change, 25 May 1942.
Find items about "ww2" on AliExpress (c):
Views : 232
Find by:
IBG models EBAY
シボレーL R D G
シボレー cwt
シボレー 1941 30cwt
ww2 british Trucks in north africa
ibg petrol tank
1/72IBGシボレートラック
IBG 35036
chevrolet c60s
Chevrolet C60C
chevrolet 30 cwt wb trucks
british army ww2 trucks
タミヤ 25pdr