Ref

CB35065

Geben
Scale-Modell
Skala
1/35
Beschreibung

Ein kit über die Pz.Kpfw. 35(t)
Ein kit der Marke Bronco das kit: "Pz.Kpfw. 35(t) – Bronco CB35065".
Die Skoda Lt Vz35 was a light tank developed for the Czech army in the mid-1930's. In 1934 pilot tanks were requested from Skoda and CKD, both tanks were ready for testing in mid-1935. The Skoda design won the contest and was put into production by both companies in 1936. The Skoda Lt Vz35 weighed 10.5 tons and had a 3-man crew. Armour protection was a maximum of 25mm and the tank was armed with a 37mm anti-tank gun and 7.92mm co-axial machine gun. By the end of 1936 orders had been placed for 298 tanks for the Czech army. In addition export orders were placed by Romania, Afghanistan and Bulgaria for a further 136 tanks. On the conquest of Czechoslovakia by the Germans in March 1938, the Skoda Lt Vz35 becameknown as the Panzerkampfwagen 35(t) and was pressed into service with the German army. It saw action in Poland, France and Russia. Most were issued to the 1st Light Panzer Division (Poland and France) and the 6th Panzer Division in Russia. The tank was retired in early 1942, with 26 tanks sold to Romania, some hulls were retained as tractors and carriers.
Source: Bronco
Warten Sie, Suche Bronco CB35065 für Sie...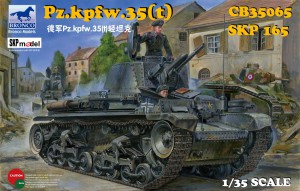 Warten Sie, Suche Pz.Kpfw. 35(t) für Sie...

Verwandte kits:
Finden kits auf eBay:
Suche auf eBay
Suche für das, was Sie benötigen, Wir empfehlen dies, aber es ist Ihr, die entscheiden
Aufrufe : 351
Find by:
r062 pz kpfw 35t
MAQUETTES BRONCO
bronco maquettes
ブロンコ35T
ブロンコ ズーリニィ
ブロンコ 35(t)
skoda lt ブロンコ
pz kpfw 35t in action
Pz Kpfw 35(t) walking around
panzer 35
Light Tank M24
chih yuen bronco
bronco workable tracks bt42
bronco pz 35 t
bronco medely 1:35
ブロンコモデル 1/35 ハンガリー陸軍 40/43MズリーニィI